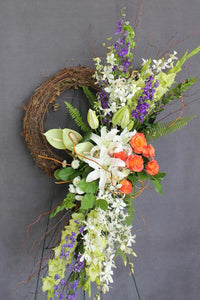 Show an outpouring of sympathy and love with this unique grapevine wreath accented by Orchids, Roses, Lilies and other distinctive blooms.
Approximate dimensions 60" x 32".
Created by designer Yolanda.
**PRODUCT DISCLAIMER** Our photos are representative of the overall color palette and design theme. Containers and flowers are subject to availability and may not match exactly what is shown in the web image. In the event that we have to substitute, our talented team of designers will ensure the integrity of your choice is preserved and will only use items of equal or higher value.