Wedding Receptions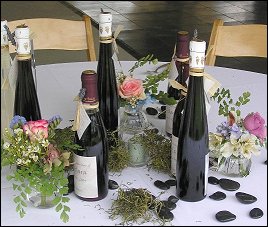 At The Blooming Idea, our experienced floral design consultants can help you plan a truly magical event with gorgeous, unforgettable flowers!
Flowers bring a room to life with beauty and fragrance. Style-savvy clients turn to The Blooming Idea for memorable events that deliver elegance, splendor and style. We have created designs for corporate events, hotel events, weddings and social events.
Remember, you can also call us in advance to schedule our designers for "On-Site Decorating" in your home for Holidays, Receptions, Luncheons, and other Special Gatherings, large and small!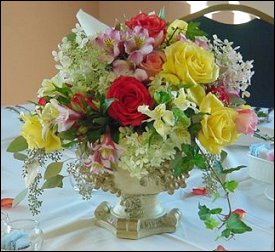 Fresh flowers can enhance any celebration or reception, from simple single stems to elaborate pedestal ensembles.
For a festive personalized feel, you may decide to choose a theme when planning your wedding or party. A theme wedding can, even more than a "regular" wedding reflect a couples' hobbies, personalities, occupations, family traditions, heritage, likes and dislikes. If a couple can dream it, they can theme it; and create a memorable event that stands apart from others. Some possible theme ideas include:
Island Pleasures

Elizabethan Wedding

English Garden

Winter Wonderland

Military

Wedding

Butterflies

Nautical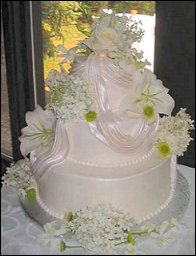 There's no right or wrong way to decorate a Cake, so have fun and explore all your options. We can make beautiful and unique suggestions that will suit your overall theme and budget.
The wedding cake is a primary focal point at every reception, and should be decorated accordingly. Stage the cake in a prominent position in the room, on a special table of its own. When you are deciding on the size, style, and type of your wedding cake, there are many things to consider.
Traditionally, wedding cakes have three tiers and are covered with Royal Icing. This doesn't mean that your cake has to be traditional. Variations of colors, flavors and fresh flower adornments are gaining much popularity.
Finding the right local florist is the key to making your wedding day a blooming success... Call The Blooming Idea today at (281) 465-4288 or 1-866-859-7887.